Part of an $11 billion investment in electrification, Ford's Mach-E launch will coincide with a new online purchase-reservation process and continued buildout of the FordPass charging network, by which Mach-E owners will gain access to DC fast chargers through Volkswagen-backed Electrify America, and a wider "network of networks" compiled by Shell-backed Greenlots. All told, Ford reps say the combined networks total more than 35,000 plugs at 12,000 charge points in the U.S. through a mobile app and in-car infotainment system.
The FordPass app will also let Mach-E owners set charging schedules, plan trips around available chargers, and warm or cool the cabin while charging to avoid power drain while driving (and have "Phone as a Key" capability to open the handleless doors). The service will likely be free for a period of time before a subscription fee will be charged, Ford reps say.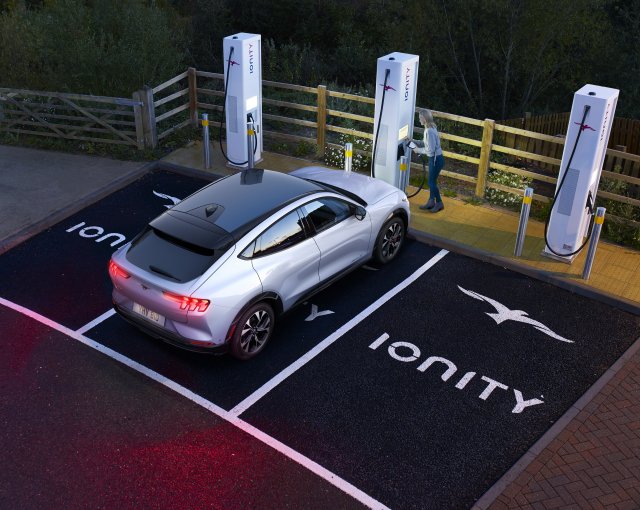 With available 150 kW chargers in the FordPass™ Charging Network, the Mustang-inspired all-electric SUV can charge an estimated average of 47 miles of range in approximately ten minutes, and from 10-80% in 45 minutes.
You won't need to pay or sign up for multiple charge networks. Ford gives you two years of complimentary access to the FordPass™ Charging Network for easy pay-as-you-drive charging.
The FordPass™ Charging Network also offers more than 12,000 public charging stations and growing – making them as ubiquitous as some of the most popular pharmacy or coffee chains.
Check out the
interactive map
to see the FordPass Charging Network charge points near you.
https://www.ford.com/buy-site-wide-content/overlays/try-the-tech/
FordPass™ On-the-Go
Manage and customize your charging needs with the FordPass app and your connected, all-electric vehicle:
Monitor charging progress
Set charging schedules and easily pre-condition your vehicle
Locate charging stations currently available for use and whether it is a DC fast charger.
Pay to charge your vehicle within the network using FordPass
FordPass™ Power My Trip, a tool that makes trip planning hassle-free by considering your current state of charge and identifying charging points along your route
Last edited: